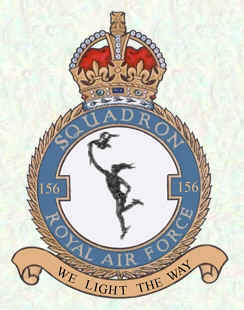 Motto: "We light the way".
The Squadron was formed at Alconbury in February 1942 as a medium-bomber squadron equipped with Wellingtons, and for the first few months operated with No. 3 Group.
When the Pathfinder Force (No. 8 Group)was formed in August, 1942, No. 156 was one of the four squadrons selected to form the nucleus of the new force. It remained with the Pathfinder Force for the rest of the European war and, still flying Wellingtons at first and then Lancasters, and played a major part in Bomber Command's offensive.
Awards to the squadron comprise 24 DSOs, 1 bar to the DSO, 334 DFCs, 26 bars to DFCs, 1 2nd Bar to DFC, 5 CGMs, 131 DFMs, 1 bar to the DFM, and 1 BEM.
Bases:
Alconbury : Feb 1942-Aug 1942
Warboys : Aug 1942-Mar 1944
Upwood : Mar 1944 onwards
Aircraft:
Vickers Wellington IC and III : Feb 1942-Jan 1943
Avro Lancaster B.I and B.III : Jan 1943 onwards
Code Letters:
· "GT".
First Operational Mission in WWII:
· 16/17th February 1942 : 1 Wellington Nickelled Lille area.
First Bombing Mission in WWII:
· 17/18th February 1942 : 3 Wellingtons bombed Essen.
Last Operational Mission in WWII:
· 25th April 1945 : 16 Lancasters bombed gun batteries on island of Wangerooge.
Last Mission before VE Day:
· 7th May 1945 : 10 Lancasters ferried 240 ex-POWs home to UK from Belgium.